CodeFlow
App development accelerator
The Power of Live-Coding
Native Applications
for iOS, tvOS, macOS
What makes CodeFlow different?
Develop Native Applications Live
With CodeFlow, you see immediately in the target application any change you make in the app's source code or assets. You don't have to rebuild and restart the app anymore; you don't waste your time waiting. So app development becomes more productive, creative, and fun.
See it in action
Main features
Live Application Update
Target App is updated while running.
No app relaunch; the app's current state is preserved!
Live update everything: code, storyboards, image assets…
Wireless live app update on a device or in the simulator.
True Native Apps
Live code your app with the entire native OS SDK
iOS, tvOS and macOS SDKs supported.
Live update of native app resources: storyboards, SceneKit models…
No web view; no proprietary UI components.
Perfect Fit with Xcode
A CodeFlow project extends an Xcode project.
Both projects are automatically kept in sync.
Freely mix compiled Swift / ObjC code and dynamic code in your app.
Benefit from Xcode's specialized editors for live update: storyboards…
What can you do with CodeFlow?
CodeFlow is very flexible and you can use it in many different ways. Here are just a few examples.
Application Prototyping
Mockup entire applications or specific UX concepts.
Quickly iterate in code / storyboards / assets.
The prototype is a true functional native application.
Interactively improve the app prototype with the client or marketing team.
Use the prototype as the starting point for the real app.
Dynamic Storyboard Design & Debug
Easily add dynamic storyboard updates to existing apps.
Add, test and adjust layout constraints interactively.
Quickly fix layout issues in table views, stack views, collection views…
State is preserved: you stay in the current view controller when the storyboard is updated.
Simple App Creation
Create entire apps in interactive mode,
or develop very specific parts of your app using live coding.
Ship the app with the dynamic code inside,
or remove the dynamic code before shipping, and push a traditional app to the store.
CodeFlow Quick Tour
CodeFlow is an Integrated Live Application Development Environment for iOS, tvOS and macOS.
A macOS App and a client framework
CodeFlow is a macOS application
A target app embeds the CodeFlow framework
Together they control the reload of code and assets into the target app
Target SDKs: iOS tvOS, macOS
A Dynamic IDE
Specially designed for live app creation
A CodeFlow project defines dynamic code and resources for the target app
It extends the target app's Xcode project
Syntax-aware Lua code editor
Assets viewer with support for external editors
Advanced Lua debugger
You will love Lua
Lua language for dynamic code
Simple, flexible and powerful
Fast lightweight execution
Quick and easy to learn; very nice to use
CodeFlow Object Framework brings interoperability with ObjC and Swift
Full access to the native SDKs and target application classes
Wireless development
Automatic target device detection and connection
Wireless update of code and assets in the target app
Support of USB-connected iOS devices
Seamless updates
Real-time update of the target app while it is running
Instant reloading of Lua modules in the project
Assets are updated in the target app when their source file changes
Dynamic Storyboard update
Dynamic SceneKit scene update
News
Jun 8, 2018
✅ Wow, @celedev CodeFlow looks really good in dark mode on macOS 10.14 Mojave! 😃
Still a work in progress, but it took me only a few hours to reach this point, while keeping it compatible with macOS 10.11+ 😎
CodeFlow = live-code native iOS apps in Lua
celedev.com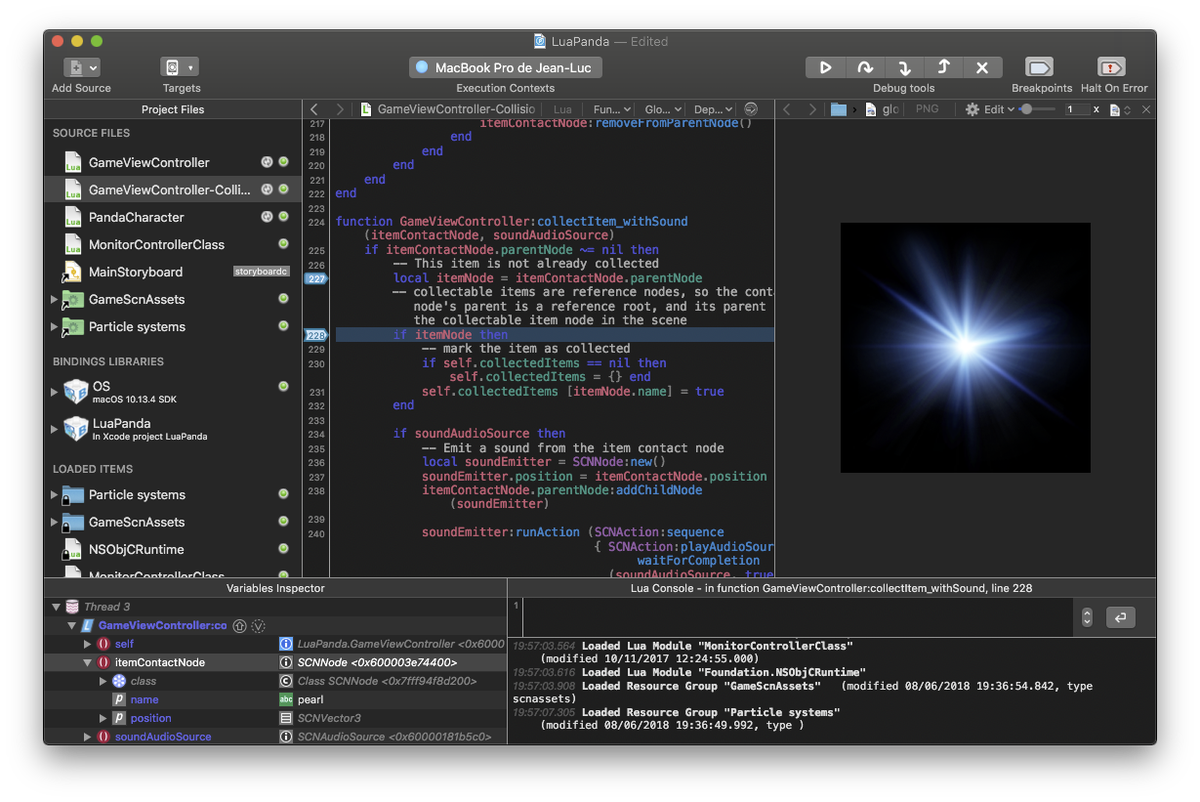 Jun 8, 2018
May 17, 2018
🎉🥂Time-Flow, an iOS app created with @celedev CodeFlow by @alf147 is on the AppStore!
The approval process took less than 24 hours. 😎
#LuaLang #livecoding #iOS
itunes.apple.com/us/app/time-fl…
May 17, 2018