Meet CodeFlow
A great way to make Apps.
All the Freedom of Live Coding
in a powerful App Creation System
for iOS, tvOS, macOS
CodeFlow Quick Tour
A Live Application Development Environment for iOS, tvOS and macOS.
Real-time app creation
Build your app while it is running
Live code update
Live storyboard update
Live resource update: images, texts…
Live-code on real devices
Test on multiple devices / screen sizes at once
Mobile apps and beyond
Develop apps for iOS, macOS, and tvOS
Use the familiar native SDK in Lua
Run UI at native speed
New OS versions support from day one
Powerful IDE
Specially designed for live app creation
Runs on macOS
Advanced Lua code editor
Awesome debugger
Works nicely with Xcode
Super-easy to use
Unleash your creativity
Instant feedback in the app
Try, experiment, revert at will
Modify app assets with your preferred editors
Feel the app UX on real devices while coding it
Enjoy wireless app development
You will love Lua
Lua programing language
Simple, flexible and powerful
Fast and lightweight execution
Very easy to learn
Very pleasant to use
The perfect fit for five coding
From prototype to customize
Quickly create prototypes that are actual apps
Use the prototype as basis for the product app
Develop entire apps with CodeFlow
Or do client-specific app customization
News
Oct 3, 2016
CodeFlow 1.0.3 is out!
⚡️ Live SceneKit assets, Sierra support, and more…
celedev.com/en/download/#c…
#lualang #iosdev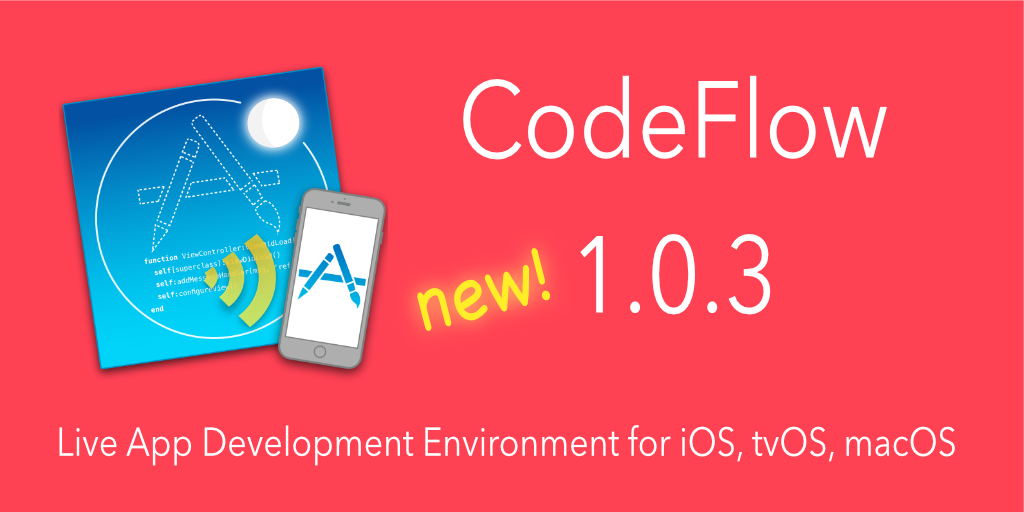 Oct 3, 2016
Sep 22, 2016
If you want to test in #LuaLang the (few) new APIs added in iOS 10.1, CodeFlow SDK Bindings for Xcode 8.1 are there
celedev.com/en/download/#s…
Sep 22, 2016
Sep 20, 2016
Live update of SceneKit assets will be available very soon in a new CodeFlow version (1.0.3). Stay tuned! 😊
Sep 20, 2016
Sep 8, 2016
Ready for shipping your app for iOS 10, tvOS 10 or macOS 10.12?
Our #LuaLang live-code SDK Bindings are ready too 😎
celedev.com/en/download/#s…
Sep 8, 2016
Aug 4, 2016
Minor update for CodeFlow 1.0.2 today, fixing a rare issue in dynamic resource updates.
Check for updates or celedev.com/en/download/#c…
Aug 4, 2016
Aug 3, 2016
If you use Xcode 8 beta 4 and CodeFlow, Lua Bindings for the latest iOS 10, tvOS 10 and macOS 10.12 SDKs are here:
celedev.com/en/download/#s…
Aug 3, 2016
CodeFlow 1.0.2 is a minor release that focuses on improving the Live Application Developer's Experience.
Aug 1, 2016
Aug 1, 2016
In CodeFlow 1.0.2, automatic creation of Lua action methods leverage the power of Live Storyboards.
New video: youtu.be/koUkihgmyU8
Aug 1, 2016
Jul 29, 2016
For details about improvements and fixes in CodeFlow 1.0.2, release notes are here: celedev.com/en/download/co…
Jul 29, 2016
Jul 29, 2016
New CodeFlow 1.0.2: many small improvements, better live-coding experience
celedev.com/en/download/#c…
#lualang #iosdev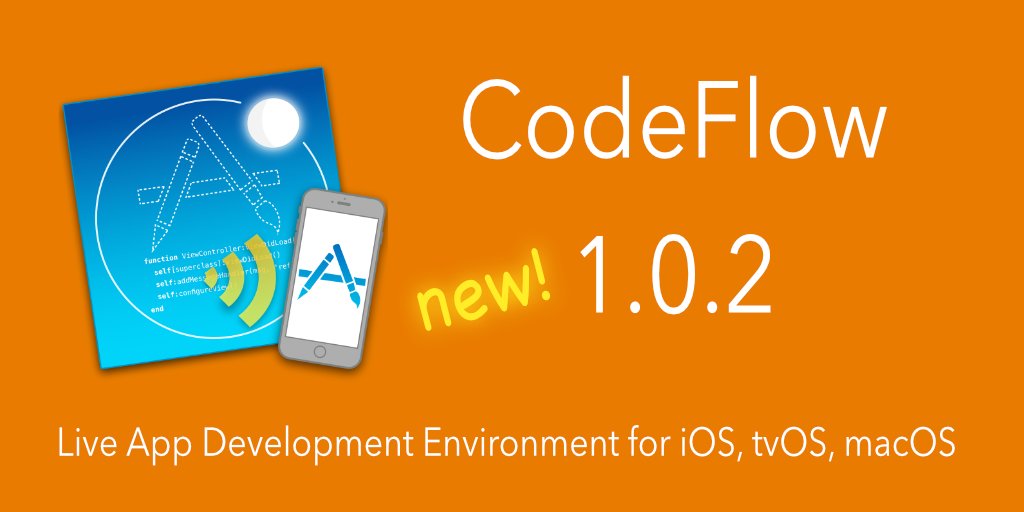 Jul 29, 2016